G.D Vajra - World's best Dolcetto!
Author: Scott Farraway| Posted:9 December 2019
Whilst 2015 and 2016 are outstanding Nebbiolo vintages in Italy, 2017 in Piedmont was a warm challenging vintage. Fortunately Dolcetto thrives in such conditions. The 'hottest' Dolcetto from the 2017 vintage has been Vajra Coste & Fossati Dolcetto d'Alba, gleefully raising eyebrows all over the globe. From Gary Walsh (Winefront) - "pretty much one of the best Dolcettos I've tasted…". Former Wine Advocate front man Antonio Galloni "loved it!". Forget this wine ranking #1 (or equal #1) in vintage 2017, we're talking Top 5 Dolcetto ever produced, anywhere in the world, regardless of vintage!
2017 Vajra Coste & Fossati Dolcetto d'alba - Tale of the Tape
95 pts Gary Walsh (Winefront) - #1 2017 Dolcetto – #1 All-Time Dolcetto
93 pts Antonio Galloni (Vinous Media) – Equal #1 2017 Dolcetto – Equal #4 All-Time Dolcetto
92 pts Monica Larner (Wine Advocate) – #1 2017 Dolcetto – Equal #2 All-Time Dolcetto
Our price of $49/btl represents mate's rates - only one other online supplier in Australia @ $63… we just ask that you order no more than 3-6 bottles of this fantastic wine, so we can share it around amongst more than a few.
---
ABOUT G.D. VAJRA
G.D. Vajra - "a world of sublime hand-crafted, artisan wines of the very highest level", as Antonio Galloni calls it - is run in the second generation by Giuseppe, Isidoro and Francesca Vaira, lovingly overseen by father Aldo and mother Milena. It was Aldo that founded G.D. Vajra, kicking off with a counter-cultural twist by returning to his ancestors' land in the early '70s, when all else were deserting the countryside in droves. That spirit of tradition with an adaptive streak characterises this far-sighted outfit. Indeed, Aldo's decision to embrace the rogue 'j' on the label – a print error that happens to hark back to the pre-1920s spelling of the family name – says a lot about the clan's capacity to roll with it and nimbly fuse its roots with the future.
Over the years they've acquired coveted holdings in their home commune of Barolo as well as Novello, Sinio and Serralunga - this latter home to the stupendous wines they produce under their Luigi Baudana label. The family excels with all the Piedmont staples – Dolcetto, Barbera, Nebbiolo, Moscato and the very rare Freisa, as well as Riesling that is far better than it has any right to be. Barolo Albe has made a name for itself as one of the best-value Barolos going, while Bricco delle Viole has cemented a reputation as one of the finest cru Barolo wines, period (though the aforementioned Luigi Baudana wines – entrusted to the Vairas in 2009 – give it a run for its money). At the more everyday level, there's a wonderful Langhe Rosso, Langhe Nebbiolo and the highly original, intensely drinkable Claré JC – a wickedly bright, tank-raised, 25% whole-bunch, nouveau-style Nebb.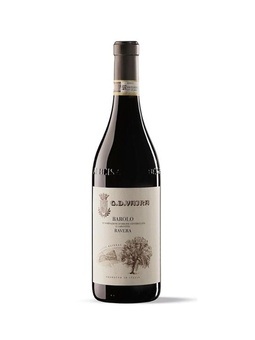 $145.00