Nervi Conterno Il Rosato Nebbiolo 2020
Sub-Region: Gattinara
Country: Italy
Size: 750ml
Variety: Nebbiolo, Uva Rara
Tasting Notes
Light coral in colour, with subtle aromas of strawberry, raspberry and chalky minerality. Citrus acidity shimmers behind delicate strawberry, pear, melon. Lemon and pink grapefruit linger on the chalky mineral driven, crisp finish. Diaphanous and refined. 90% Nebbiolo, 10% Uva Rara
"Fruit for the Nebbiolo Rosato is fermented in steel and aged four months on the lees, which leads to a textured and savory wine full of strawberry, white flower, and fresh herb flavors. Nervi is the oldest winery in Gattinara that is still producing. In 2018, Roberto Conterno owner of the Barolo legend Giacomo Conterno bought a 90 percent stake in it, which should tell you just how good this winery and its prime vineyards in the Gattinara DOCG are. He had been working as a consultant oenologist here and recognised the incredible quality. This rosato is made using some grapes from some of Nervi's top crus, such as Molsino and Valferana. These are plots that you would expect to be saved for their top reds, making this a very serious rosato."
Cellar, Collect or Deliver
We provide three options to best fit your needs:
ADD TO YOUR WINEAWAY CELLAR: Available for existing storage clients. Interested in starting your cellar with us? Signup online or learn more here.
CLICK & COLLECT: Self-collect your wines at Wineaway (41 Montpelier Road, Bowen Hills QLD 4006).
DELIVERY: View our shipping & delivery page for more information, or use our shipping calculator at checkout.
More From This Category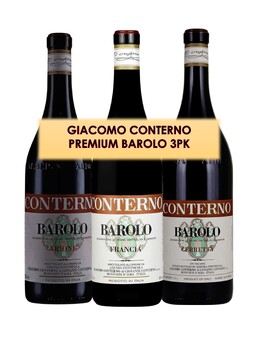 2017 Giacomo Conterno Premium Barolo 3pk
$1,950.00